Sliming Herbal Body Wrap with infrared light
Slimming Herbal Body Wrap - is an all natural way to cleanse the skin, detoxify the body and achieve weight loss.
Our body wrap procedure is based on: the minerals from dead sea, herbs and essential oils. Infrared heating blanket to boost your metabolism and activate the detoxification process.
Immediate weight and inch loss. Lose 6-20 inches off your waist after just one session. However, in order to achieve long lasting results it is important to get all of the toxins out; and by reapiting the process several times, your results will last much longer.
For best results, schedule 6 or more wraps within 7-10 days of each other.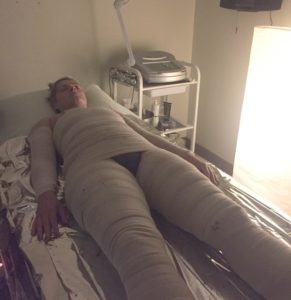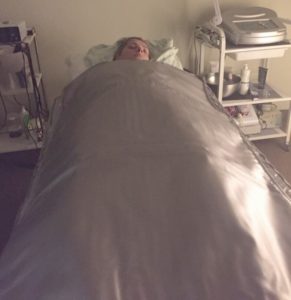 What are benefits of Body Wrapping?
Reduce Stress
Tone and Tighten the Skin
Reduce the Appearance of Cellulite
Re-balance the Body
Lose Unwanted Inches
Aid in Weight Loss
Cleanses body of toxins &impurities.
What does Infrared Slimming Treatment do and how does it feel?
This is Infrared Slimming Treatment is the only fat loss system of its kind. Lose and average of 2 to 3 pounds of body fat in just one treatment. Through this unique use of infrared heat, you can achieve actual weight loss (not just water weight), increase your metabolism, burn calories, shrink stretch marks, rid yourself of harmful toxins, and finally lose that ugly cellulite.
The Infrared Slimming System encourages determination. It promotes micro circulation and help eliminate retention of liquids that prevent proper fat management of the body.
The Infrared Slimming System does promote fat loss. It improves people's health &makes you feel better.
Infrared herbal body wrap brings your body a better health with less work and more weight loss